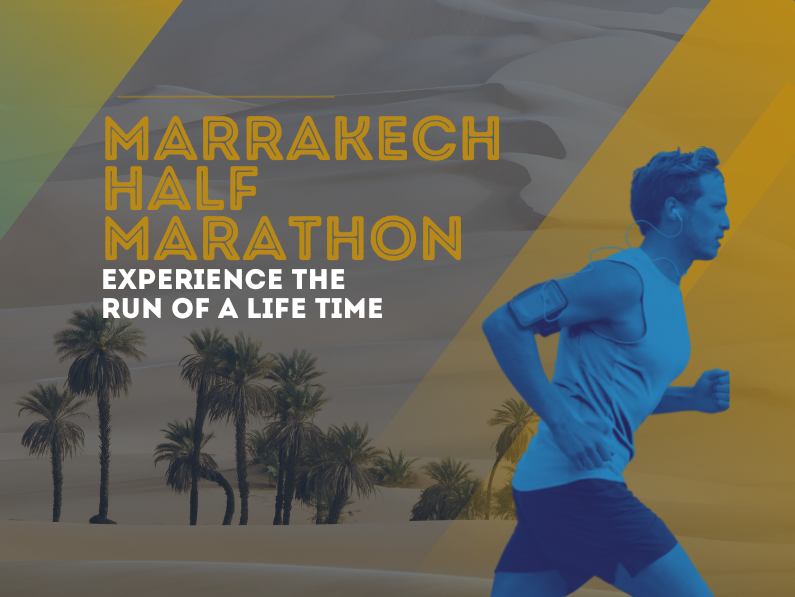 Sponsored : Marrakech HALF Marathon
£250 (Inc; Accommodation, Transfers, Race Entry, Hoodies)
£1200 (90% of funds need to be raised before we fly out)
Suitable for people 13 years and over. Under 18s need to have written consent from a parent/guardian adult. Suitable for new and experienced runners. First timers are advised to train by going on local power walks a few times a week. The jog lasts between 4 to 7 hours
Flights not included.
Airport transfers, ground transport.
International Charity Challenge: Marrakech Half Marathon 2023
Run, jog or walk your way through the splendour of Marrakech. 
The Marrakech Marathon has long been considered one of the world's most prestigious marathons. Following a single route around the city, you'll run alongside over 12,000 runners from around the world between 12th century castle walls, through the Menara gardens and on roads lined with palm trees.
Whether you're trying for a new personal best, or simply want to tackle a new challenge for your own fitness, set yourself a fundraising target for Hope Welfare Trust and create a truly memorable achievement.
You'll be cheered on by crowds of support and experience a truly fantastic atmosphere..
Why are we doing this?
Hope Welfare Trust is committed to supporting the health of women and children in our native, Pakistan. 
Pakistan has among the poorest pregnancy outcomes worldwide. For every 100,000 live births in the country, 319 result in the mother dying. For every 1,000 births, 54 result in stillbirth.
In 2018, we opened up a fully operational Hospital, and have since helped over 260 women give birth safely. 95% of these women were able to give birth and receive excellent medical care and support at no cost to them. We've also recently launched a new Dental and Eyecare Centre, free of charge to all patients. 
Furthermore, the hospital has an emergency department, with an ambulance service and a dialysis centre. 
However, we can't run this without your support. 
Running a hospital comes at a high cost, and we need your help to maintain the life-saving care given to men, women and children. 
Registration fee includes:
Accommodation (hotel stay)

Meals and refreshments

Transport on the ground and 1 x airport transfer per arrival and departure

Personalised hoodie

Run entry
You must have a valid UK passport and provide evidence of a PCR COVID-19 test. You must be over the age of 16 to join the international challenge if planning to travel alone, even with parental consent. The challenge will be for a total of 3 nights and 4 days. Minimum fundraising target of £1000, 90% of which must be raised before flights are booked.